This post explains how to reinstall Hype from the Mac App Store and how to restore any Pro purchases you've made.
To Reinstall Hype 4:
Visit the Tumult Hype 4 Page on the App Store

Launch Hype, and an 'Unlock Tumult Hype' window will appear.
If you have purchased the Pro upgrade, click Upgrade > Restore purchases in the 'Unlock Tumult Hype' window that appears on first launch.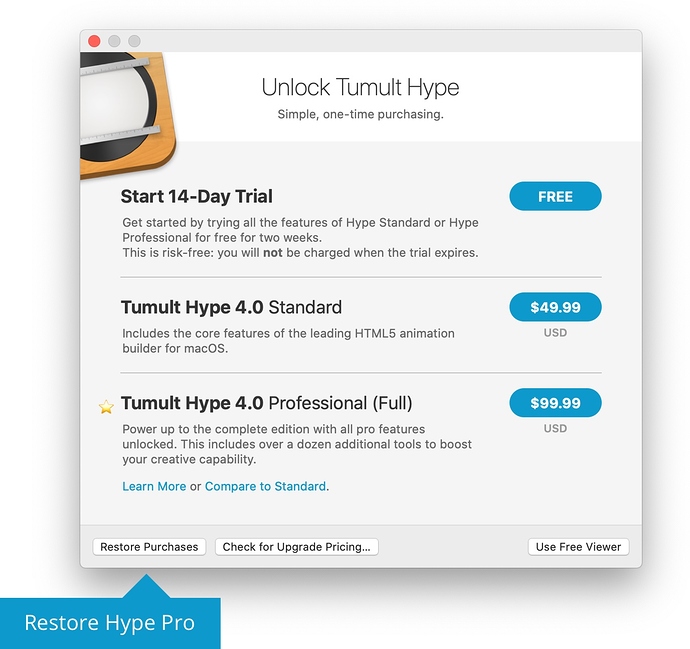 To Reinstall Previous Versions of Tumult Hype from the Mac App Store
Open the App Store, and make sure you are logged into the account which purchased Hype under the Store menu
Go to the Purchases page via the account sidebar item (macOS 10.14+) or the Purchased tab at the top (macOS 10.13 and below). In most cases you can get there by clicking this URL: macappstore://showPurchasesPage?scan=true
Find the version of Hype and click the install or download icon
If you are restoring Hype 3 Pro, choose Upgrade > Restore Purchases… to get back to the Professional edition, if previously purchased.

Restoring Hype 3 if you Updated to Hype 4
If you installed the Hype 4 update but wish to go back to Hype 3, please read: Going back to Hype 3 from Hype 4
Full Uninstall + Reinstall of Hype from the Mac App Store
Do a Spotlight search in the menu bar for Hype, choose "Show All"
Move all the found copies of Hype to the trash (Don't delete your .hype documents!)
Empty the trash
Restart your computer
Follow instructions above for your version of Hype you wish to reinstall.
If you don't see the version of Hype you're expecting you may have purchased from the Tumult Store. Click here to recover your license.
If you want to upgrade to the latest version of Hype, read: Upgrading Tumult Hype on the Mac App store
There's more...
Read more on Updating, Reinstalling, & Upgrading Tumult Hype