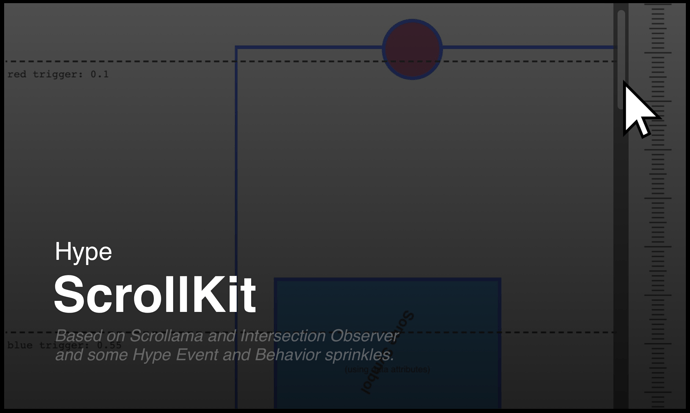 Quick prerelease drop of this project in a 1.0 Beta (as I am on the road again) so you nice forum people can use the time to have a look. Proper example missing (anybody wants to chip in?).
Quick Summary (so far)
This extension aims at integrating scrollama (intersection observer based) and some other scroll related helper functions into Hype. When compiled properly, you would only need to include one JS-file. After that you can then use the attribute panel and custom behavior todo many things already (exit/enter events, directional exit/enter events, steps on same trigger). If you use a couple of new callback features you can even go further and use scroll progress features and more to come. See code and attribute panel for plans and settings for now.
Download
HypeScrollKit.zip
Demo
HypeScrollKit.html
Versionhistory
1.0 (Beta) Initial release under MIT-license
1.1 Some refactoring and scroll functions
1.2 Added hypeDocument.registerScrollCallback
1.3 Included dependencies and a minified version, Safari now supported