I am new to both Hype and Wordpress, so please bear with me.
I've uploaded the Hype plug in.
I've exported the oam and uploaded it.
Now, I can't figure out how to insert the oam into a page. My screen doesn't look like the example at the top of this post. When I click on add new post, I get this: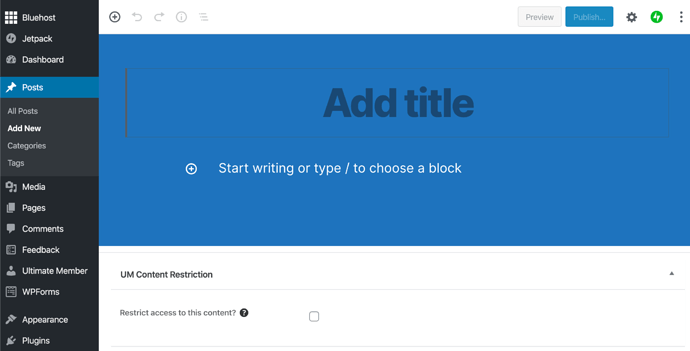 I've gone through all the options I can think of, but nothing is working. Any help is appreciated.
For your case, you would need to visit the Hype Animations plugin directly, and copy a 'shortcode' which represents your Hype animation. You can then paste that shortcode anywhere in the Wordpress editor.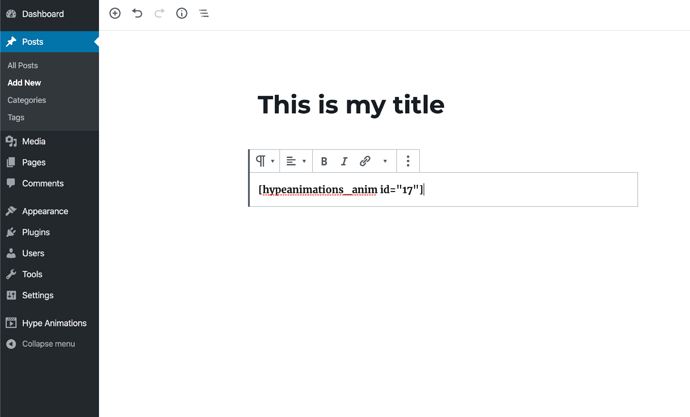 What you're looking at in the screenshot is the 'blocks' editor which removes a lot of the formatting options in favor of a clean interface. So it removes that 'Hype animation' button unfortunately.
Thanks. It seems like I'm making some kind of error exporting the original animation. I inserted the shortcode and the preview showed only a portion of the animation.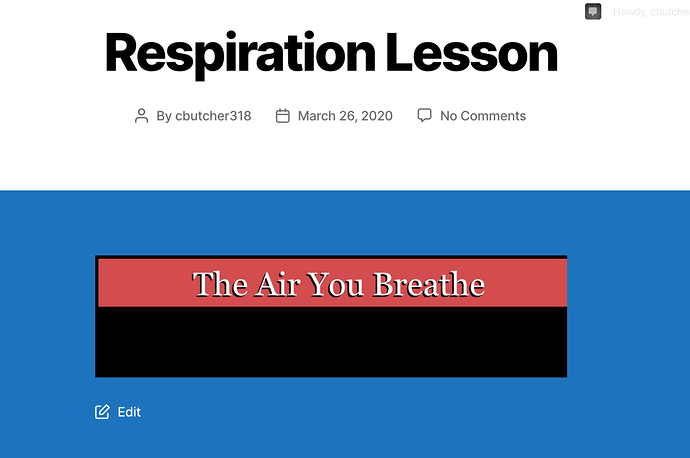 EDIT: I was able to upload a very simple test animation, so I can do it. The one I'm trying to post includes video. I need to learn how to keep video attached during export. (I'm sure that's another thread.)
This may be more related to how your Hype document fits within your Wordpress theme. If your Wordpress theme has a maximum width of 500 pixels and your Hype document is 600 pixels wide, the side will get cut off. This video explains how to examine your theme for embedding a Hype doc by inspecting the theme using developer tools: https://youtu.be/CuwkJTtuGLc?t=59
If anyone out there speaks
Spanish
Italian
French
German
Chinese
Japanese
Portuguese
Russian
Indonesian
or Arabic ... and would like to test translations for this plugin, please visit

Beta Testing Tumult Hype Animations Wordpress Plugin
We're planning some changes to the Wordpress Plugin. If you use the plugin, I'd love it if you could answer a quick question about how you upload OAM files:
I use the Hype Animations plugin Dashboard to upload my OAM files (this is most common)
I add animations from the Post or Page (I disabled the Gutenberg Editor)
For my part, I am in the process of changing my website, created with Mobirise, to do it again with WordPress. I plan to use the Hype plugin and build the website with Elementor.
I don't know if this can help your question, since I'm not using the plugin yet and it's just a declaration of intent.

Gutenberg is a must move. There are some tutorials on creating a block that actually only renders a shortcode for a fast solution.
Might be a bit older but it's a maybe start: