Reinstalling Whisk from the Tumult Store
If you don't have your license key on hand, you can recover it here.
Redownload Whisk from our download page.
When you launch Whisk, you'll have the option to provide your HyperEdit serial to claim a discount. View this page for more info on claiming the discount. When your discount is applied, pricing will automatically update: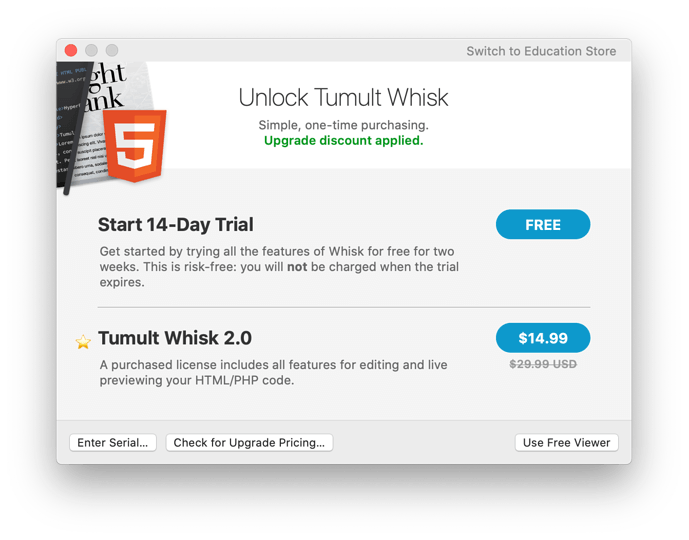 Reinstalling Whisk from the Mac App store
Click here to view Whisk on the Mac App store. Next, click the cloud-shaped download button:

Click Open, and you should be all set. If Whisk doesn't recognize your previous purchase, click 'Restore Purchases' in the Unlock screen that appears.
Please note that there are no serial numbers when purchasing from the Mac App store. Your purchase is linked to your Apple ID.
Updating Whisk
From the Tumult Store: When launching Whisk purchased from the Tumult Store, a built in update mechanism will show any available updates and prompt you to upgrade.
From the Mac App store: The Mac App store will automatically manage updates for you.
Both the Tumult Store and Mac App store are virtually identical, but there are small differences listed here.
Starting the Whisk Trial
Download Whisk from our website to start a 14 day fully functional trial. Open the downloaded .dmg file and drag Whisk to your Applications folder. Next, click the 'FREE' button to start a trial.
You may also start a trial from the Mac App store version of Whisk.