Hi to everyone,
firstly I'm a beginner at hype and I am enjoying it , I think it's a wonderful piece of software.
For an university project I began building a large interactive fictional map. The route I took was to cut it up into slices ( around 40 or so of them ) and put each one as a scene, I figured at least this way I could control the contents of each section ( slice scenes ). Navigation between the scenes are through 4 directional arrows.
However now I'm being asked if I could get away from all the clicking from scene to scene. I'm wondering if there's a way I could use one large image and be able to scroll in up, down, left, right, directions. ( I'm thinking javascript would likely be used for this )
I've been trying to follow a few other forum questions and examples I've found on this, and modifying them but am struggling to increase the size of their images to scroll further. I'm wondering if there's a way to preset the boundaries of an image like this, or something like that, that I'm missing.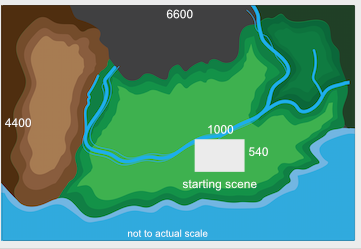 My map size is 6600 x 4400 and I'm using 1000 x 540 medium for web as my document screen size.
Any guidance and help would be greatly appreciated