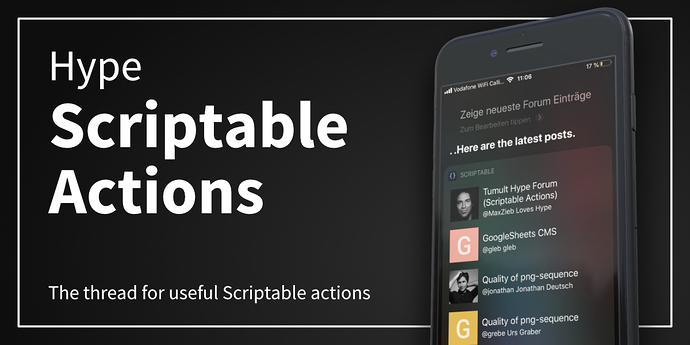 If you wonder why the screenshot is on iPhone 6s Plus… yes folks that's what I still use.
This thread is for JavaScript-based actions to be used with the great and donation based Scriptable iOS-App by Simon Støvring. This extraordinary app integrates with the native APIs of iOS directly from JavaScript. So, you can do all kind of useful stuff.
How-To:
Install the Scriptable app on your phone
Install the script by either:

Navigating to this post and click on the scriptable file of your choice
Creating a new script and copy and pasting the code into it
Latest Posts
This script can show the latest posts using a voice command and opens the Hype Forum when clicked on a post. It is simple and based on the included example script so feel free to post additions and tweaks to it in this thread.
Plain text script for copy and paste into the app:
/**
* Hype ScriptableActions Latest Posts 1.1
* Fetch latest forum posts from Hype Forum
* based on example script and tweaked from there.
*/

let forumURL = "https://forums.tumult.com"
let url = forumURL+"/posts.json"
let req = new Request(url)
let json = await req.loadJSON()
let table = new UITable()
let posts = json.latest_posts
for (i = 0; i < posts.length; i++) {
 let item = posts[i]
 let row = new UITableRow()
 row.onSelect = (idx) => {
    let item = posts[idx]
    Safari.open(forumURL+'/t/'+item.topic_id+'/'+item.post_number)
 }
 let imageURL = item.avatar_template.replace('{size}', 240);
 if (imageURL.indexOf('http')!=0) {
    imageURL = forumURL+imageURL
 }
 let title = item.topic_title
 let subtitle = '@'+item.username+' '+item.name
 let imageCell = row.addImageAtURL(imageURL)
 let titleCell = row.addText(title, subtitle)
 imageCell.widthWeight = 20
 titleCell.widthWeight = 80
 row.height = 80
 row.cellSpacing = 10
 table.addRow(row)
}

QuickLook.present(table)

if (config.runsWithSiri) {
 Speech.speak("Here are the latest posts.")
}

Script.complete()

As scriptable file:
LatestHypeForumPosts.scriptable