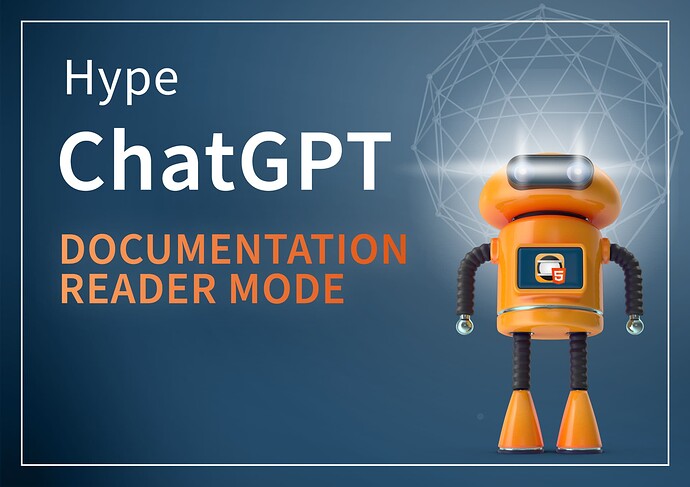 ---
BEWARE this version is an experiment, huge and tends to hallucinate.
---
Welcome to the Tumult Hype 4 chatbot! I'm here to help you get started with Hype and answer any questions you might have along the way. Just ask me anything you want to know, and I'll do my best to help you out.
And don't worry, I'm not just a regular boring old robot. I've got some personality (and a few jokes) built in too. So don't be afraid to have a little fun and crack a few robot jokes while we chat. Let's get started!
---
This Version isn't focused on writing code (!!!), but will help you explore the documentation.
After you load the entire official documentation, you can ask the Hype ChatGPT full documentation bot anything about Tumult Hype 4…
---
Instruction on how to prepare your bot and how to copy and paste the full documentation.
---
As the documentation is sadly too big for a forum post …
follow this link to the GitHub Gist: Full Tumult Hype Documentation for Hype Chat GPT
click on the raw button
press Command-A (to select all)
Command-C to copy the entire documentation.
paste the entire thing into the ChatGPT bot…
You should see…
I have read the documentation,
you can now ask me anything about Tumult Hype 4!
---
Small version history
v1.0.1 This version consists of the full Tumult Hype 4 documentation and I added the coding guidelines from the first bot, just to make sure we get as little as possible on the hallucinations front.
v1.0.2 As @jonathan and I quickly found out, only the documentation leads to "hallucinations" on code. This version does add a disclaimer about that and will send you to the code version.