Here is a Clock Template,
The Clock is Saved as a Symbol and Can be duplicated. Each Clock can have a Different time displayed using Timezone Names as the Symbol Id.
These version are later than on the original post I made these for.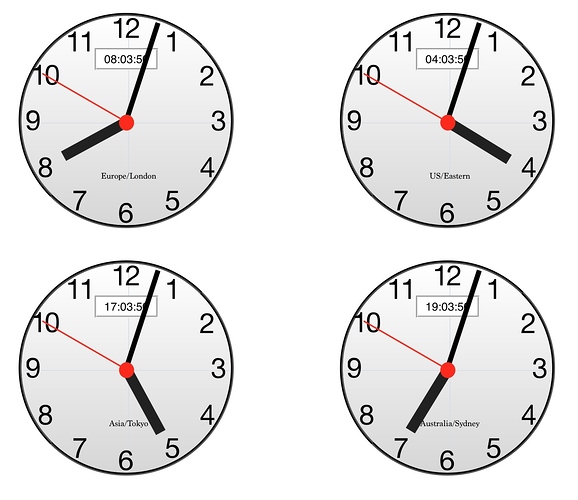 ---
To add to it simply duplicate a clock Symbol & drag it onto the scene.
Gve the new Symbol an ID. The ID needs to the timezone name for the place you want the time for.
i.e
Europe/London
Place like the USA may do things slightly different.
i.e New York works as US/Eastern
You can see a list here https://en.wikipedia.org/wiki/List_of_tz_database_time_zones.
It may have a list for a city like America/New_York if a code like this does not work there probably is a second one in the database for it. America/New_York = US/Eastern
P.s I cannot swear to any consistency with this as time zones are like mine fields…
---
Project Example
World_Clock_3.hypetemplate.zip (74.3 KB)
---
Single Clock Symbol.
Clock_Symbol_3.hypesymbol.zip (73.0 KB)