I opened up an older file today to make an update, and have a weird thing going on with my menu (symbol). It's setup below other elements (nbrhood_bigimage is the bottom background image, and nbrhood_streetmap is the graphic that slides over top of the menu and everything else). When a button launches the timeline, in the edit window, it works as it should... the graphic overlays the menu. However, on export or preview in a browser, it doesn't work the same way... the menu is on top of everything. See below:
Setup: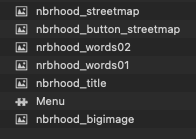 What it looks like before graphic slides over top:


How it looks when editing (it looks and works correctly, hiding the menu when an image slides over top):


All of the above is working correctly. When I preview the scene in any browser, and the image slides up over top of the menu, the menu shows up on top of everything:


I'm stumped. Nothing has been done to this file in quite some time. And the only update I made was replacing out a single graphic image with another.
Any thoughts/help is appreciated. Running Hype Pro 4.1.2 (Mac App Store). Thank you.