I would like to get some opinions form the experts about how they would approach building a modular presentation framework in Hype. My plan is to have separate presentations split into a manageable number of scenes each. The look and feel will be consistent throughout so that scenes from individual presentations can be mixed and matched. The mixing and matching will take place in a template Hype document that will "bring in" the required slides from the standalone decks. Hope that makes sense so far. I drew a diagram…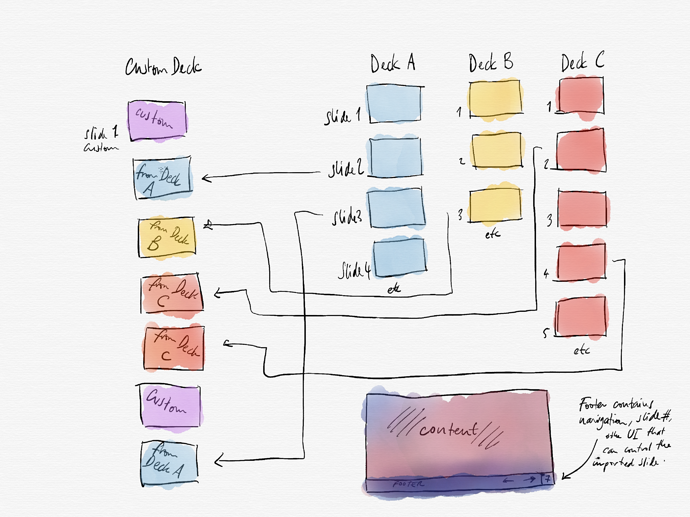 The way I see this working is that the custom deck will contain a persistent symbol footer which contains "control elements", such as navigation. But importantly I need the UI elements in the footer to be able to globaly control what happens on the slides, whether they are "brought in" (via iFrame or Embeded hype code or any other way?) or are "native" to the custom deck.
For example, say, I want to change the colour theme of the whole presentation. I click a "dark mode" toggle and all the backgrounds of all the scenes turn dark while all the text, in contrast turns light. This change needs to propagate throughout the whole document, for each scene and for all content.
So the question is how to approach this? By accessing the embedded scenes like…
HYPE.documents['SecondaryPresentation'].showSceneNamed('Scene2', instant)
And then call a function that changes the background colour etc? Where would that function be called from? The host Hype document? Or should it exist in every Hype document that I'm bringing in?
Apologies I have more questions than answers at the moment, but don't want to go down a rabbit hole if it's totally not viable.
I would appreciate any pointers or suggestions.
Thank you.