Er, I meant JS manipulation. Oops!
Following a solution provided by @jonathan in 2016…
…I made some buttons to increment/decrement a textfield using his js trick (thank you sir!):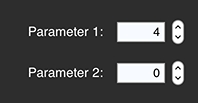 clicker.hype.zip (19.1 KB)
The code is looking for a specific ID, "TextfieldCounter":
	window.clickCount += 1;
	hypeDocument.getElementById("TextfieldCounter").innerHTML = "" + window.clickCount;                 

The problem, as you might guess from the snapshot, is what happens if you have 2 textfields? Is there a way to say "within this group, go find Whatever and increment it's innerHTML, and ignore all the other textfields"?
Thank you!