Hi there.
I'm a datajournalist working at Politiken, a danish daily. We've played around with Hype now for 7 months and we've published a good deal of the content on our website politiken.dk.
One recurring problem is Hype's naming of retina files. At least I think that's the problem.
We use an amazon s3 server for hosting and Cyberduck for uploading, but whenever Hype automatically generates retina versions, the Cyberduck upload fails. If I remove the retina files from the ressources folder and try again - that works fine.
Every time: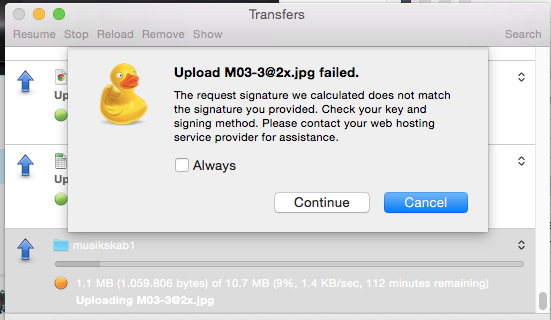 Our developer here is pretty certain that it's a matter of the file name. Cyberduck doesn't like the '@' in a file name, and that seems like a fair assumption considering everything works smoothly, when I remove the retina @2x.jpg-files from the folder.
I've just searched this site for others with the same problem, but the only one that comes close is this one:
Here it is advised to use Cyberduck and no one names a problem like mine.
But it's a pretty big deal for us. A lot of our content doesn't work properly on retina devices, because no matter how big the size of my jpg's for instance - Hype resizes them and makes a @2x.jpg-version for the retina. And with a '@' in the name - I can't upload them via Cyberduck.
Please help us if you can.
All the best from Copenhagen
Peter