Hello I am trying to create a button on an ad and have it link to a separate url. Setting it to 'On Mouse Click' > Action Go to URL seems pretty straightforward but nothing is happening. The cursor doesn't change to pointer and there is no action.
An example of my ad can be seen here: http://campaigns.leafnow.com/quantcastads/320x50-a-static/Default/Default.html
I've also uploaded a screenshot of my inspector panel.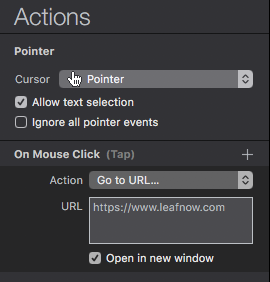 Please advise,
Thank you