Hi
I've made a game with 12 scenes. the hype document itself is 7.8MB, when I export as .oam to upload to Wordpress there is something going wrong. The size of the .oam is only 804kb, I'm sure it must be bigger than that? Is it an export issue?
I am using OS Catalina and the trial version of Hype 4 (I am going to properly upgrade from 3 soon).
When I add the .oam to WP through the hype plugin it adds it twice (every time) then the shortcode on the page just shows nothing. I have tried deleting the duplicate .oam and still the same issue. There are no console errors on the page and there is no div at all for where the shortcode should be. I am also getting a blank pop up for the 'copy embed code' (screenshot)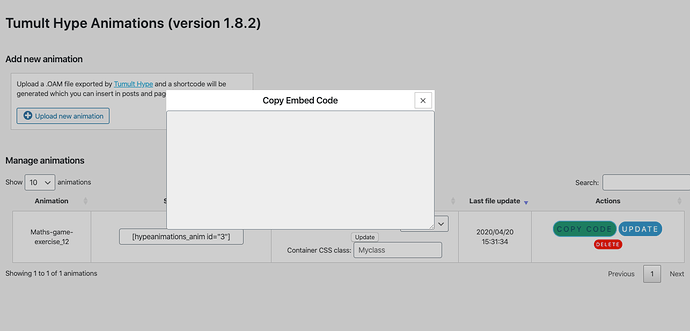 I am using the latest version of WP with the standard 2020 theme.
Please any insight would be really good as I need to get it up on the site!
Thank you