Hello to everyone,
I have a line chart that has 4 "frames" of display, based on 4 days. Each of these days can be selected by means of a cursor, which, by scrolling left / right, allows you to see the corresponding "frame" of the line graph for each day. The frames of the line chart are .png rectangles of the same size.

I'd like to set a morph to make the transition from one "frame" to another smooth and continuous. I was wondering if it was possible.
N.B. The line of the graph actually includes two composite lines, similar in type to those of the example: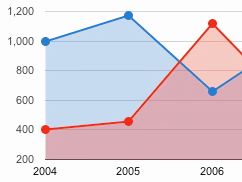 but quite complex, so I cannot reproduce them in vector form in Hype...
Thanks in advance for your attention and help!