Is Hype running nicely on macOS Ventura?
Yup! I've been running on the developer releases since Ventura came out and have yet to find any serious bugs, but if you see anything wrong please let us know.
Well… then I will probably soon be among the early adopters of the new macOS.
There are two issues with Hype v4.1.8 and macOS 13 Ventura we are now aware of:
If you are in Dark Mode and have the Resources Panel open, renaming a scene will lead to a crash
3D rotations do not show perspective
These have been addressed and are being submitted to the Mac App Store for approval today.
(It will be for Hype v4.1.11; long story short is Setapp got a v4.1.9 release to address some Ventura stuff, we found another Ventura issue afterwards and submitted v4.1.10 to the app store which is actually available now, and that scene rename crash just got fixed for what is hopefully a final v4.1.11 for Ventura support. Fun times!).
If you are running Ventura and encounter any issues, please let us know. Hype's feature and combination of web technologies form a vast test matrix making user reports of issues vital to maintain quality. Thank you!
None of these updates are available thru the app?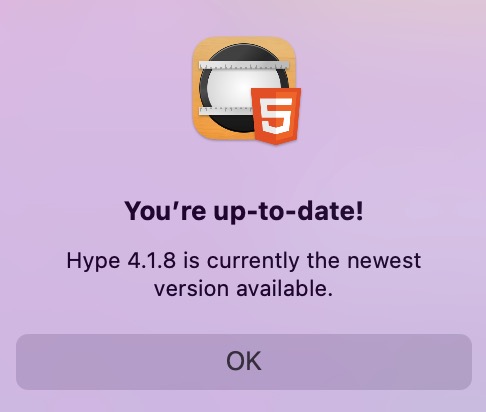 We typically wait for App Store approval, since it can mean extra work if we are rejected and need to make changes.
Anyhow, Hype v4.1.11 was approved in the App Store, so we have released it through the direct download as well. Please get this latest version, especially if you are on Ventura. Thanks!
Got the 4.1.11 update through Hype this morning!
Will let know if there are any issues

Awesome, thanks!
P.S. Here's the full change list:
Ventura: Fixed an issue where renaming scenes would crash in Dark Mode with the Resources Panel open
Ventura: Fixed an issue where 3D rotated elements would not show perspective
Ventura: Fixed the Welcome to Hype window not showing video
Fixed a bug with text elements where fonts may not be able to change with a partial selection
Fixed issue where inspector properties being actively edited would not be shown in a previewing
Fixed cases where resource updating could show multiple dialogs and lead to partial document corruption
Fixed code generation issue where fonts without HTML additions would add extra lines to the document head
The external style protection CSS updates its definition for the bold tag to be consistent with current browsers
Fixed a bug where Standard Edition documents would reopen as read-only incorrectly