Hi All,
I created the following interactive to show differences between the new and old Brightspace HTML editor. (A work in progress.)
[https://personal-sites.deakin.edu.au/~pbright/info/Brightspace_Editor_New_vs_Old/]
(Note: Click 'Proceed' on the initial landing page.)
My method is probably unconventional, I'm still a newbie in the javascript space so I used the timeline interface to show/hide/move elements at 1 second intervals, with transitions set to 'Instant'.
Apart from the background image of the old and new editor menus, these are the main elements I've used:
A blue square or rectangle is used to highlight the old editor icons/menus
An orange square or rectanlge is used to highlight the new editor icons/menus
A Tool name text field (that changes at each interval)
A Comment text field (that changes at each interval, when required)
Each icon is overlaid with a hidden button with an action to jump to the time in the timeline to show it's corresponding icon in the other editor
Additional images of menu options are displayed when required
(As this is a work in progress, I jump around the timeline a bit and there are a few alignment issues with image scaling.)
I'd value feedback on how others would have tackled this.
I'd also be interested in what I can do to make this more accessible.
Regards,
Peter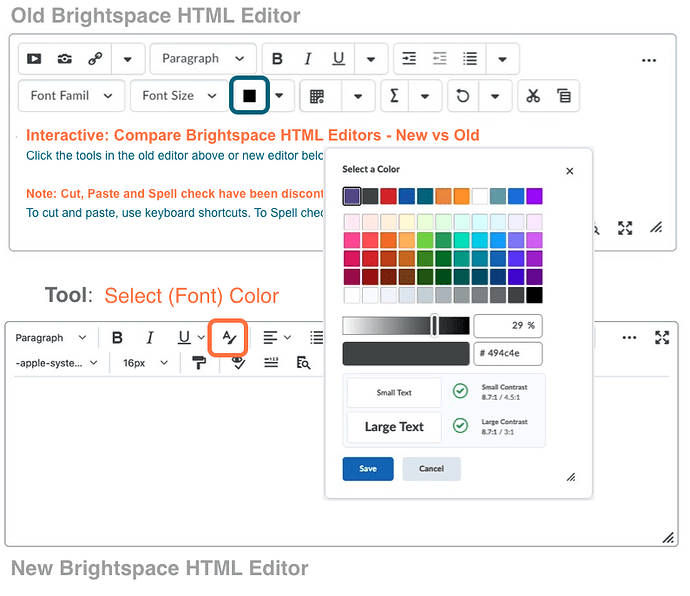 Brightspace HTML Editor new old comparison v08.zip (882.2 KB)