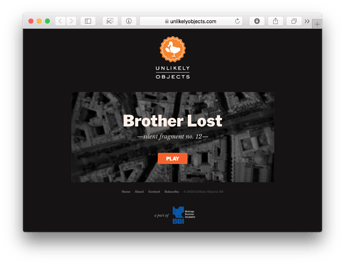 We've got a new startup at an incubator in Sweden and we're working on literary games that combine writing, film/animation and interactive puzzles. To sketch out our ideas we made a few prototypes in Hype, and now we've created a landing page to introduce our work and find people who like what we do and want to see more. Hey! Could that be you?
Landing page and the sample of our game in progress:
unlikelyobjects.com
I made the entire site in Hype and should work on mobile as well, even the game sample section.
Will the final game look like this? No, it will probably be a lot more sophisticated—but we wanted to get something out there now so we can talk to people.
Any comments, questions, scathing critiques, wild rants or random replies are highly appreciated! And if anyone is interested I can share the Hype doc. Thanks Hype community!