Hello everybody!
My name is Michelangelo, and I am a Hype web designer and web developer.
I have been working with Hype from version 1.
I love the software and I have left EdgeAnimate for Hype time ago. I also create applications with hype.
After having fun on this great forum, I have had an idea: I wanted to create a specialized website named "hypedocks" where it would be easy to find out what other designers have done with Hype, new ideas, tips and tricks, widgets. A different format, a resource for all users, updated by the users themselves.
The forum is our most important asset and I think hypedocks can be a valuable resource to learn as much as possible about Hype.
I have scoured the web looking for the most inspirational and useful resources for someone looking to improve his work with Hype.
All developers are more than welcome for this project! I hope to offer a good showcase for all works made with this amazing software.
Possible improvements: I would make an improved showcase for professional developers, even with commercial products or services.
I would like to thanks all members of the forum who helped me, a specially to @gasspence and @KrissBill for the help in my work on the site and to Tumult for allowing me to work on this project.
Thanks to @jameskoh @h_classen @nick @VGo @julian @rene @MarkHunte @vincentd @armelle @drewbullen @craigah13 @gaz @Olof @ferbis @colinredwilliams @Luckyde @thejoepeach @johnapurdy @gaz @BigPoppaE @elcalibano @ocultor @Photics @jon4896 @Ben1 @maxpiantoni and many others for the support. LOL
So, here are already some templates, articles, and tips to release your creativity!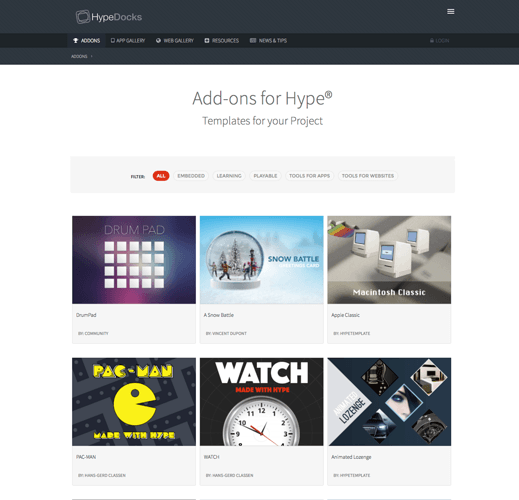 What you can do with hypedocks