Apple is getting tougher about privacy. That's great, because Photics apps are quite innocuous in such matters. The "Code of Honor" page explains the story...
Isn't that a cool double meaning? It's a code, like an honorable way to live, but it's also code as in programming. That's when I imagined the two worlds combined. I pictured a shield with zeros and ones on it. That idea was in my head for a while, but it wasn't until today that I made it real.
One of the problems was not having an illustration application that I liked. That's when I though... why not just use Hype? So, I tried it. The results are not too bad.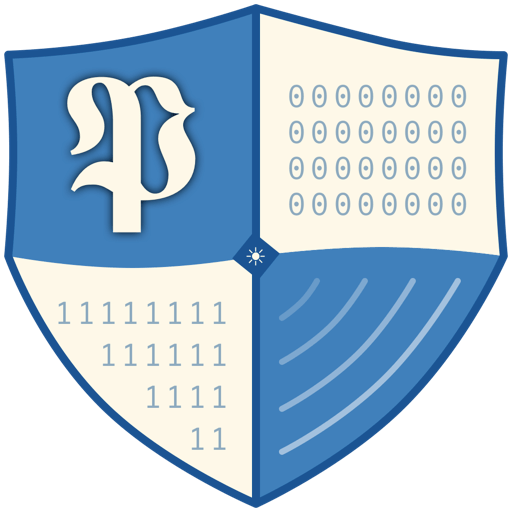 I was able to put a lot of symbolism in the shield. The wavy line across the middle, that represents water, as "Photics" means the science of light — particularly in areas of water reachable by sunlight. That's also signified by the circular lines, like ripples in a pond. The "P" also represents "Photics" and there's a sun icon in the middle.
I exported the artwork as PNG. Originally, I forgot to set the background to transparent, but otherwise no problems. Well, it's not a vector format. While it is technically possible to make this an SVG, I imagine that would involve some tedious work. This is good enough for the page... and a lazy Sunday. HA HA!
Photics.com still could use an overall logo. Will I use Hype to make that one too? Eh... I don't know... maybe. The shield was a fun side project. A main logo would have to be more serious. I don't want my vector artwork trapped in Hype.
If I go with a crazy idea for Widgets / Apparatuses... https://www.walletninja.com/custom/ ...a Photics logo would be useful. Since my app is a virtual multitool, it could be cool to give away customized versions of the Ninja Wallet as a promotion.
Anyway, the point is that Hype surprised me.