Good news! I feel bad for begging for a beta now

Great news! Can't wait to get my hands on it!
Super news, lets hope Apple push it through quick!
Power Up
Also, I'm glad that Tumult is still fighting it out on the Mac App Store. As a developer, I'm familiar with the problems. It really is a struggle to navigate through Apple's walled garden. I like the Mac App Store and Hype, so I'm glad that Tumult is not doing the same as what happened with Sketch.
Happy face for the app being submitted to the App store.
Sad face for this (though it's only the first Google search result, so take with a grain of salt.)
(While we wait - is this a paid update or included? Pricing?)
I've generally found that site to be accurate as far as the review times we've hit. However, submitting doesn't guarantee a release in 7 days in the case of being rejected where the whole process might start over. So cross your fingers!
v3.5 is a free update to anyone who purchased Hype 2/3 Standard or Hype 3 Professional.
For those who haven't purchased yet, the pricing remains the same: $49.99 for Hype 3 Standard and $49.99 for the Pro upgrade (or $99.99 for the full Hype 3 Pro). Educational and volume discounts are available from the Tumult Store.
I agree, i saw some Apps left the Apple store for restrictions in development and the high rate request.
Tumult is Rock!
APP REJECTED!
REASON: TOO AWESOME!
That is good news guys.

Woot! Grats to Team Tumult; Hype 3.5 is one awesome program!
I'm very much looking forward to it. The smoother animations will certainly be helpful to me. I've output a good number of Hype created video ads and could use this (as well as the frame control.)
Faster loading? (Combined resource folders, scene-independent item load control?)
Loading time in the general case is the same. We did add an Advanced Export feature that does allow exporting on a per or individual scene and layout basis (as well as any mixing and matching). This will by default only export the resources needed for those contents, so that can speed up preloading potentially for that content.
I saw that four updates were available on my desktop. So, I launched the Mac App Store to see if Hype was one of the four…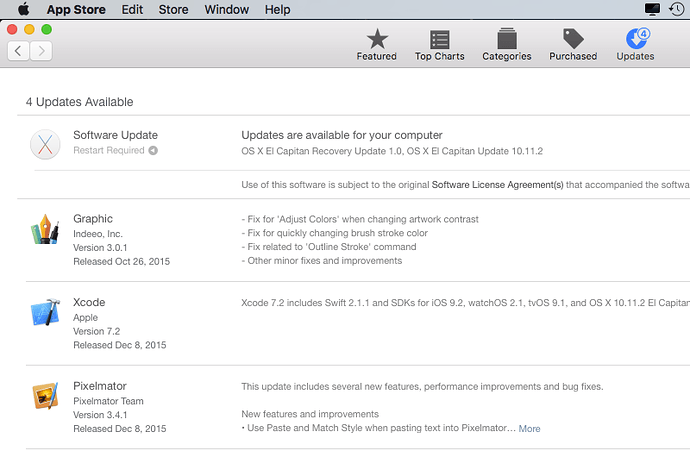 El Capitan… nope
Graphic… nope
Xcode… nope
Pixelmator… nope
Normally, I'm happy to see a Pixelmator update. HA!
So, it looks like more than 7 days so far for the Hype update. If Hype launches soon though, a lot of people will be going to the Mac App Store for updates. That might be helpful to Tumult.
Yes I got my 3.5 update one minute ago!
Cheers guys! >> playtime!!!
So excited. Tumult thank you so much!!! Waypoints is going to be a game changer for me…
Hoping for audio playback on timeline.
YUPPIE! the wait is over. Christmas in advance!, many kids will be happy

Got my UPG, thanks Tumuli!