Hi to all JS-savvy users!
Working on a quiz here and using pre-made JS functions:
CorrectScore() and getScore(), they work fine.
My challenge is to extend the function so that it would show a custom message (in inner HTML I suppose?) on the GetScore page,
based on the quantity of the right answers.
Here screenshot of the GetScore page draft, clarifying what I mean.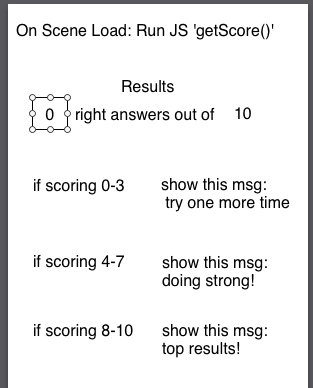 Also I've attached a hype doc with three placeholder pages for future questions with CorrectScore function that counts the right answers and the final result GetScore page.
How would I do this?
Any advice / hints / links to resources with js snippets that can do this, are appreciated!
score.hype.zip (49.9 KB)