Hi,
I have been stuck on getting this code to work the way I want it to.
Specifically, this code, to hide a button in the scene.
hypeDocument.getElementById('FNDBUT').style.display = 'none';
There are several buttons that the user can choose based on the situation. I want them to show if they are needed, and not, if they aren't. For example, if the user chose to live with a friend and that didn't work out, buttons for the other choices should show up and the button for "Stay With A Friend" should be hidden, and the existing displayed buttons should slide up so there are no gaps.
I apologize if there's a thread that covers this. I did several searches for it, and came back with a number of hits, all which seem to be having issues getting the element to hide. In my case, the code hides the button, but leaves a gap where the button used to be. What you'd would expect from the visibility or opacity properties.
The issue in the attached project is in the scene LVGPROB and JavaScript function randLiving(). Let me apologize for my code in advance.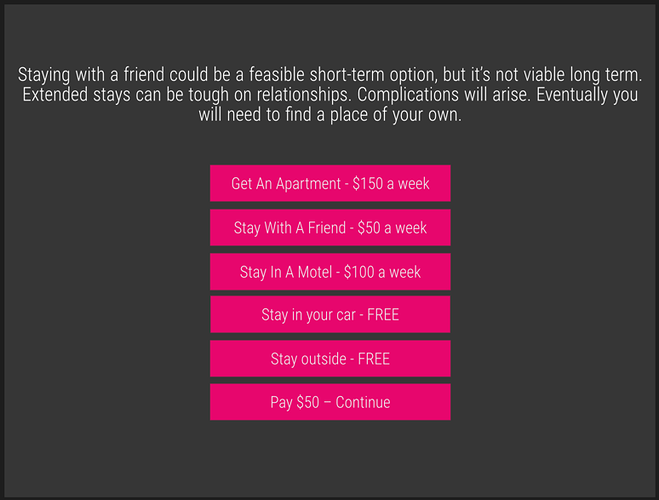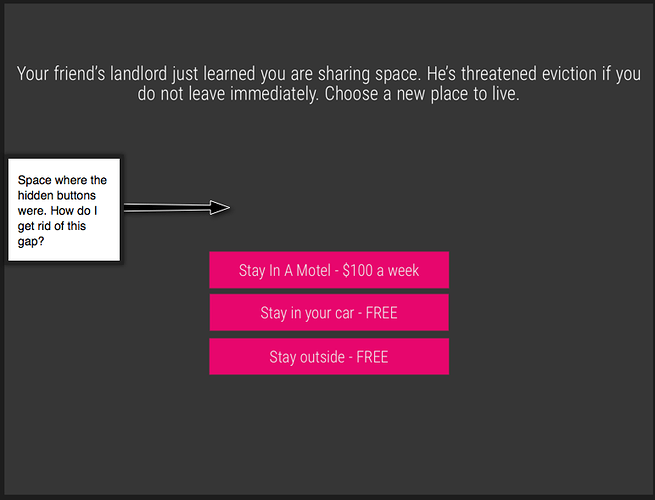 Any advice on this would be hugely appreciated. I'm kind of behind the eight ball trying to get this done.
Thanks!
Eric
Microsite v3 copy.hype.zip (1023.7 KB)