Hi, guys!
I have question about managing the sounds in Hype. I have read the other two topics about that but I think my question have a little difference. I've made a example of what I need to do here:
Sound.zip (1.5 МБ)
I want to play couple of sounds in the same time in loop mode and starts them with fade in effect. In some slides (scenes) I want to stop them but with fade out effect. I really like that the sounds don't stop automatically when you move on to the next slide (scene) but I need a little more options.
It would be great if there was an option for that in properties panel of "Play/Stop" triggers.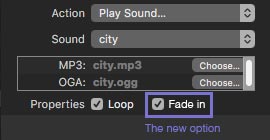 Thank you in advance!