Does anyone have experience with this platform?
I don't think they've come across my radar, but looking over the spec it seems entirely possible for Hype documents to export to a compatible format. Hype v3.6 has the notion of Export Scripts that could even be written to automate a lot of the changes that might be needed - it isn't clear how strict they are on the formatting.
I'm happy to work with you or Admebo to make sure your ads are successful on their platform. Feel free to continue here or DM me.
I think the only obstacle currently is the folder structure. I'm wondering if there is a way to publish the ads with the folder structure they suggest: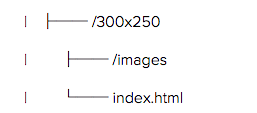 They are, in fact, needing this format. Is that something you can help me with?
I just shot you a DM about this.