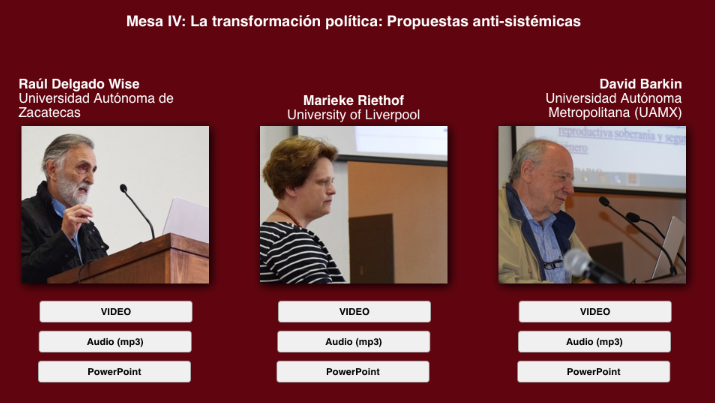 Hello everyone,
I've gone through the forum, youtube tutorials, etc., and -perhaps I'm missing it- this topic doesn't seem to have been addressed.
I have post-conference website built. We recorded video & audio for each presentation, which we want to make available for students & other researchers. For each session, we had three presenters. The website breaks down to a section for each session of presenters, as seen in the image below (huh. typed before I checked. No image linking in this forum? Hm. Dropbox link: https://www.dropbox.com/s/wn1gfg2bkjs0glz/Presenters.png?dl=0 )
I'm presenting the presenter's name, title, affiliation; a still photo (which could be the still keyframe of an embedded video once we have that media available); and below, buttons for video (which may be supplanted by the aforementioned), audio (here is the crux of my question) and their PowerPoint presentation.
What I'm trying to do is find a way to make the audio button be an embedded audio player for the MP3 (and OGG and WAV) files.
I tried using Hype's mouseclick - triggered Play feature, but you can't shut it up once it's started (no pause control). I had audio triggered by mouseover at one point but ended up with three audio playbacks overlapping.
I think the answer is to call a javascript from the mouseclick… BUT I've gone through the documentation, including the advanced control of audio & video elements, and this section has me a wee bit stumped:
All you need to do is create a small snippet of Javascript which will run when you choose. First, add an ID to your audio element like the text 'lionroar' below:
> <audio controls="controls" height="50" id="lionroar" preload="auto" width="300">
> <source src="AUDIO.MP3"type="audio/mpeg"></source>
> <source src="AUDIO.OGG"type="audio/ogg"></source>
> </audio>

Here's where my ignorance of all things Javascript comes in: WHERE do I create that snippet? Does it go into an HTML widget? Into the code of the page? Into a new Javascript element accessed under Mouseclick?
Yeah, I know, I need to do a Javascript intro… I would like a little more detail in Daniel's section on audio in the tutorials

Maybe a screenshot or two as well…
Or… is there an HTML5 audio player I can just drop into a widget, and point to the audio files I've uploaded to the server?
Thanks in advance for advice and tips, and for forgiving my lack of knowledge on the topic.
Cheers,
Mark