Would there ever be a 'duplicate layout' based on a specific layout? Right now, the way it works is by way of clicking the plus Icon and specifying the width size, but it does it in a way where it takes everything based on what layout you worked on last? What if I want to the ability to duplicate 600x500 and turn into 1280x720?
If say the hierarchy of layouts are as follows.
600x500
300x250
728x90
1280x720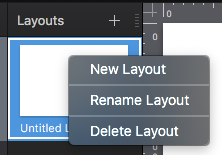 Right now it takes whatever I created last and turns the canvas into 1280x720 but based on 728x90?