The coding is simple.
But you do not say what you query that holds the two names will be ? So I have assumed
https://YOURURL?to1=John+Travolta&to2=Jason+Statham
The simplest way is to use classes for the elements.
Also put the element sets in a group and give the groups a class name and some Additional HTML Attributes.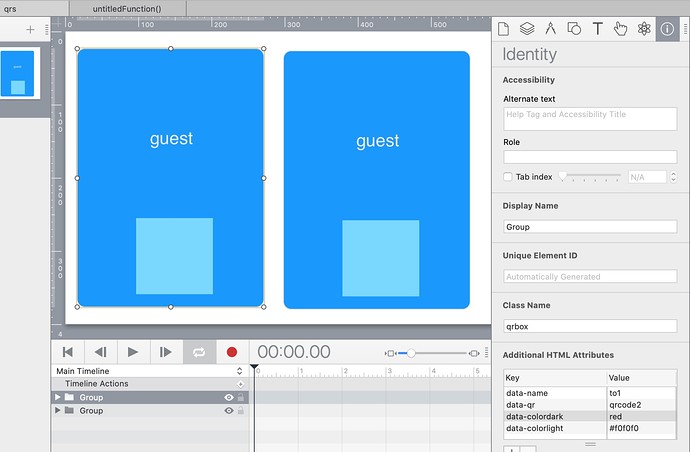 The code will then look for the group class qrbox and iterate each one it finds.
It will look for the Additional HTML Attributes of each and use these to know which URLSearchParams to use for each.
//https://YOURURL?to1=John+Travolta&to2=Jason+Statham
	
	
	var theElements = document.querySelectorAll('.qrbox')
	 
	 var paramsString =    window.location.search
	  
	 let searchParams = new URLSearchParams(paramsString);
	 	  
	theElements.forEach(qrFunction);

function qrFunction(item, index) {
  	var guestNameParam = item.dataset.name 
	var qrBoxID = item.dataset.qr
	var colorDark = item.dataset.colordark
	var colorLight = item.dataset.colorlight

 var theTo_ = searchParams.get(guestNameParam ) 
	
 thisGuestEl = item.querySelector('.theto')
 var qrel =  item.querySelector('.qrcode')
  
 console.log(colorDark) 
 	 
	thisGuestEl.innerHTML = theTo_
	 
//-- generate new qr code using madaffandi url + querystring
	var qrcode = new QRCode(qrel, {
		text: theTo_,
 		width: hypeDocument.getElementProperty(qrel, 'width'),
		height: hypeDocument.getElementProperty(qrel, 'height'),
		colorDark : colorDark,
		colorLight : colorLight,
		correctLevel : QRCode.CorrectLevel.H
	});
}

userQR3.hype.zip (33.5 KB)
---