Hi everybody!
I'm building a banner animation which requires me to handle two different interactions/clicks. Each click triggers a different Javascript function nested in the -body- of my index.html.
Integrating the right clicktag-code is not the problem – I got that working very fast.
Spending the better half of the day browsing the Forum and testing different scripts, I am at the point where I am pretty frustrated, since my HTML and Javascript skills are next to nothing, and I have a hunch that I do not have a clue where to place the codesnippets properly (e. g. innerHTML, -head-, etc.).
Long story short: I am in dire need of professional help, guys, because I'm pretty new to HTML5, Javascript and Hype. I'm one of those "former Flash professionals"… =) I guess that's why I enjoy animating with Hype so much.
Screenshot of my Hype document, showing what kind of functionality I need: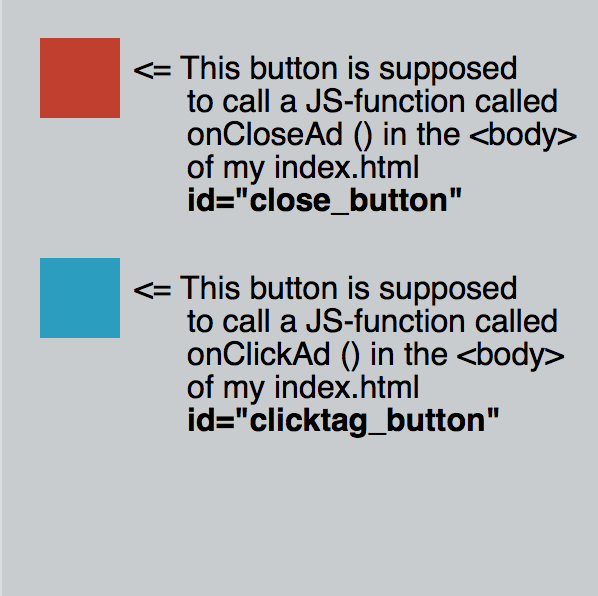 … and this is the Javascript code in my index.html, which wants to be called: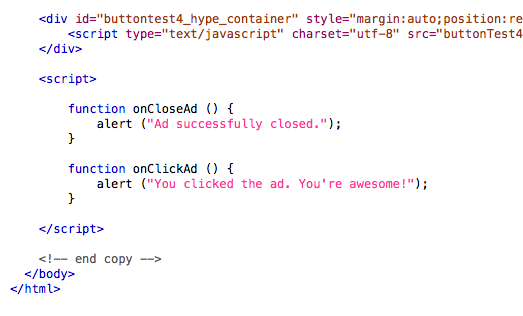 What I am not able to achieve on my own:
Getting the code within my Hype document together to trigger any of the JS-functions in the -body- of the index.html.
Here's a ZIP of my Hype document, plus the HTML5 export with my index.html file:
CallingExternalJS.zip (145.3 KB)
I hope I prepared the files good enough for you to give me a hint on what to do next, and where to place the missing code to build this simple functionality into my banner. Any help is welcome.
Thank you for your help!
With a smile from Germany


Alex