I'm nearning the completition of my website (desktop-dark variant). Just a few alignments, text changes, etc. are left. So, I just uploaded it to server to do some checks (some cookies were supposed to set only on my domain, etc.). So, a huge part of the wesbite worked correctly. However, I'm facing a few issues. They're listed below:
The browser's console is throwing a lot of 'info' (see screenshot). The numbers just go on increasing as I hover my mouse over the elements on which I've set some mouse hover actions. I can ignore this problem because it doesn't seem to cause any issues with the usability of the website. But, I'd like the console to be clean.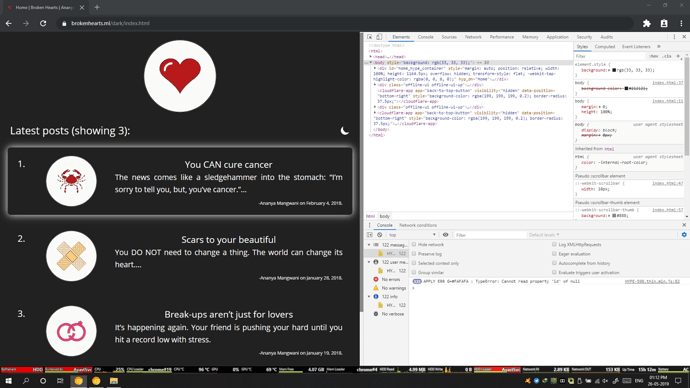 My scene 404 and 404 aren't working as expected. I've set a cookie warning on all scenes and added a function to remove those if a cookie named privacy with the value yes exists. It's working on all scenes, except on 403 and 404. I've no idea why. That's giving some syntax error in console (see screenshot). The same error repeats if I click on the 'Got it!' button to dismiss the warning. This is a serious error and I have to rectify it.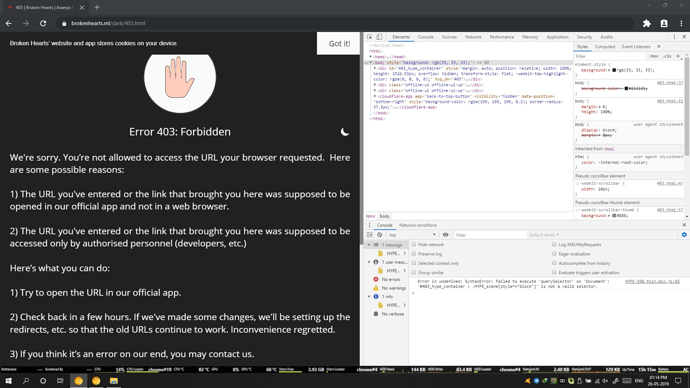 My website is available here to check: https://www.brokenhearts.ml/index.html
(choosing any theme, dark or light won't make any difference because both the folders have the same files uploaded in them).
I'm also attaching my .hype document. It's available here: https://drive.google.com/open?id=1nd5nPy9WRq-FC0PUKv7Jvk8OPza3FoZQ
My testing environment is Google Chrome Canary 76 on Windows 10. I'm testing in the 'Guest' account in Chrome so that there's no cache, cookies, extensions, etc. that can conflict.