I would like make a feature request for the ability to add easing to the built in Scene transitions. Additionally, the option to start the timeline of the incoming scene as soon as that transition begins. This would significantly increase the usefulness of the existing Scene features. Below is an example of how this might be implemented.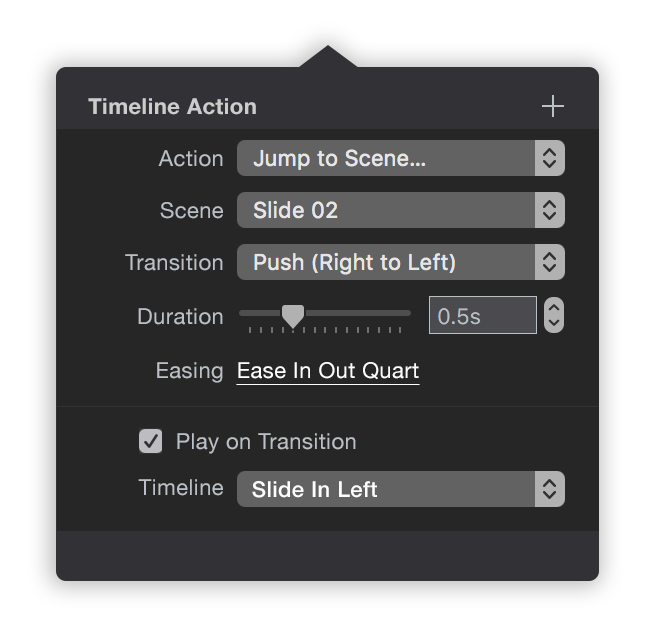 Why not use the timeline?
For finer animation controls it's often advised to just use the timeline. There are a number of issues with this approach. Creating compositions with more than a few symbols requires a complicated approach to managing multiple relative timelines. Additionally in many cases it requires building out dynamic symbol arrangements manually. This does not scale well, and makes any major changes to the experience tedious and challenging to implement. Furthermore, Scenes exist to solve this problem already, and do it extremely well. Extending the scene transition animation capabilities results in a cleaner, more organized approach to making larger maintainable experiences without sacrificing animation quality.
Whats wrong with transitions now?
Aside from there being only a limited set of pre-defined transitions, they have very little customizability, and are timeline-locking. No amount of motion design can compensate for Scenes pausing, linearly moving across the screen, and then continuing the timeline of the new Scene. 'Pre warming', or starting elements moving as they are in transition is a common motion design technique to achieve fluid movements between stages.
I hope you'll take this feature seriously under consideration. Hype is the best tool available for rapidly designing and creating animated interactive content, and I believe this feature would enable users to create more polished, and bigger experiences with all the benefits of Scenes. I'd be happy to create examples and demos to illustrate this further, just let me know.
Thanks,
Michael