Hi guys.
I speak poor English so I use a translator. I am a graphic designer and I would like to make an avatar creator for the association where I work. I create my different visuals (face shape, hair, eyes, nose …). So I have a scene for each customizable element:
Scene 1: home (choice of sex male / female)
scene 2: Shape of the face (oval, round, square, triangular)
scene 3: Hair (several different hairstyles)
scene 4: Eyes
scene 5: nose
…
When you click on the category "face", there are the different possible forms and the user can choose which appear. When you click on the different face shapes, I want it to appear on my avatar. I did the action: on mouse click -> go to the time in the timeline.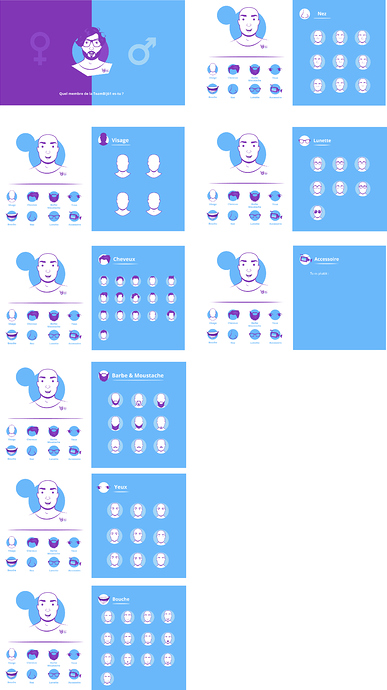 At 00: 01,15, appearance of the round face shape … at 00: 03,15 appearance of the square face shape … No worries for that. But how to make the choice of the user is saved and move to the next scene? I imagine it's javascript. But I am so bad. I have already done some research but I can not find anything conclusive.
I do not know if you understand what I mean. I attach to you the visuals of my different scenes.
I thank you in advance