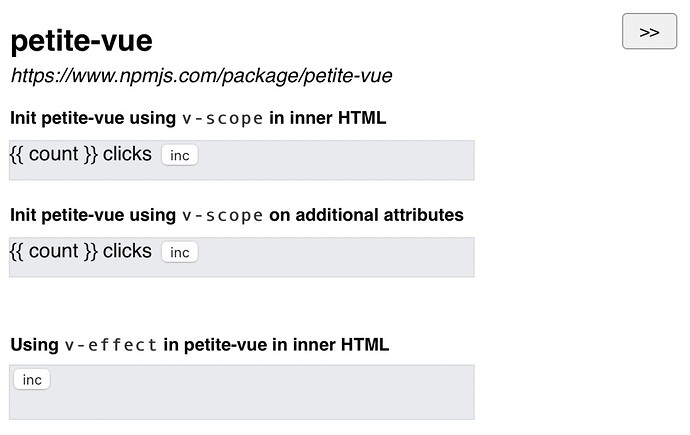 Finally, Evan You (creator of Vue) has launched a slim version of Vue called petite Vue.
Vue.js is a product that has many assets, which can be overwhelming at times. To address this issue, Evan You has launched petite Vue which is a slim version of Vue. It is faster and more lightweight than the original Vue.js
The regular Vue Virtual DOM is a virtual representation of a DOM, but it is much faster to use and renders in only milliseconds. The Hype Runtime is a library that generates pixel-perfect animations for the web. It can be used not just in games, but also in movies, interactive art installations, or even web design.
This project solves issues concerning running Vue and the Hype Runtime at the same time because the petite version omits the Virtual DOM while keeping reactivity (with in place mutations).
petite-vue is an alternative distribution of Vue optimized for progressive enhancement. It provides the same template syntax and reactivity mental model with standard Vue. However, it is specifically optimized for "sprinkling" small amount of interactions on an existing HTML page rendered by a server framework.

Only 5.5kb
DOM-based, mutates in place
Driven by @vue/reactivity
Here is a basic implementation with Hype. The v-scope attribute enables reactivity for the inner HTML and can be either set in additional attributes or on a DIV-wrapper. Either example is provided in the example file.
Download:
HypePetiteVue.hype.zip (84,6 KB)