I'm making ads that will run on Doubleclick, but am having problems understanding the requirements. I've made an ad in Hype that has both a CTA-button leading to a website, as well as a button that when clicked shows some legal text within the banner (i.e. a click on that button only displays a rectangle with some text in it).
I export with the Doubleclick export script, and when I run it through the validator everything looks good until I attempt to click the legal button. I get this message, which is not good since a click on the legal button presumably would lead to the user being sent off to the landing page instead: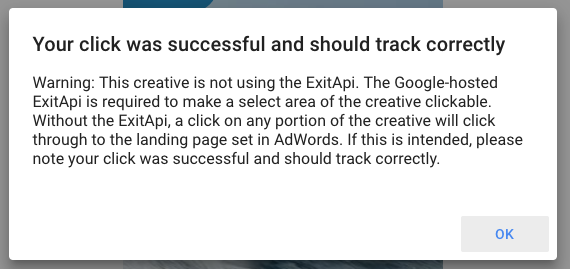 So, I tried implementing the ExitApi-script instead in order to be able to use both buttons, but that leads to the following error: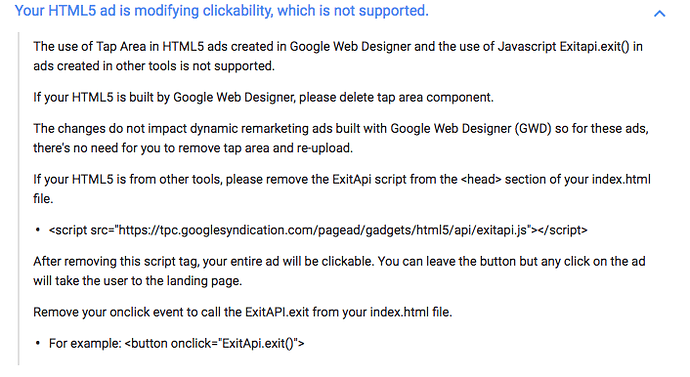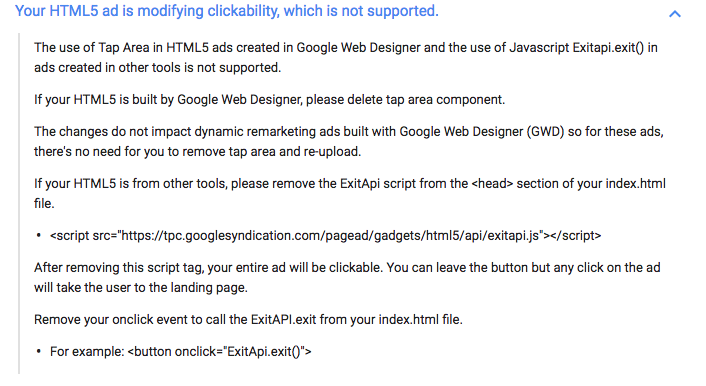 https://support.google.com/adwords/answer/6335679#error22
It seems, starting 11 Dec 2017, changes were made to Adwords/Doubleclick that makes "modified clickability" unsupported (https://www.en.advertisercommunity.com/t5/Ad-Approval-Policy/HTML5-with-modified-tap-area-not-supported/m-p/1349776#). Does this mean that a button such as the legal button I'm trying to make will no longer be possible, since all clicks have to lead to the exit url? Or am I not getting something?
Thanks in advance.