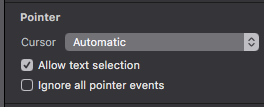 This 'Allow text selection' is turned on programmatically by default on all new items I add to the document.
What is the point to have this ON
for ALL elements we add to the document,
including pictures and graphics without text?
I assume only a small % of hype doc creators would deliberately activate the text selection feature.
I have to switch it off in all cases, because there is no point to highlight the text on e.g. buttons with editable text.
Beside this, in some cases the cursor's shape turns into the I-beam when hovering over raster elements with no text ( cursor pointer set to automatic).
It does have an impact on my performance because I cannot switch it off globally but manually for every element.
That said, why not to give users the possibility to switch this off globally in preferences, just a thought for @jonathan ? Or is it just me misunderstanding something and struggling with that?