I purchased Tumult Hype Pro 3.6 September 23 2018. is there an upgrade option for me?
I paid in 2015 for 3 and ended up coughing up 69 usd… but it's worth it! I love my hype!
Hi, I upgraded every pais Version - but Hype4 tells me that I only have Version 1.
So how do I get a better discount?
Thanks in advance!
Martin
This page has more info on claiming upgrades, let me know if y'all have any issues.
Hy Daniel,
I just upgraded by following the procedure from the Mac Appstore and I get the following screen to unlock. I also located the v3 version manually and it does not change anything. I bought V3 in 2015 I guess.
Can you have a look at that?
I am using Hype since 2011 and happy beta tester.
Thanks for this wonderful product!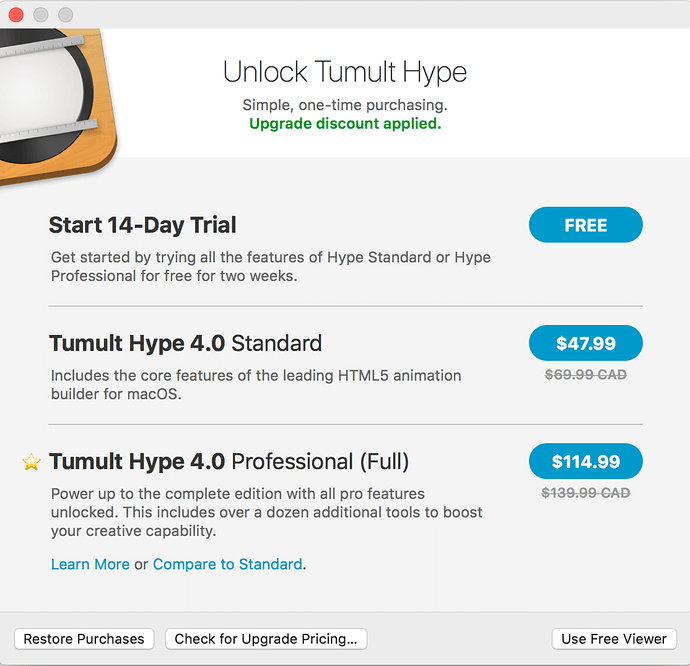 It looks like a discount was applied, so everything worked? The full price is crossed out under the blue buttons…
Ouuups. I didn't notice my version is too old to be eligible for the free upgrade.
Sorry
Can't seem to get the upgrade pricing for the MAS version. I'd upload an animated gif that demonstrates this but I get a forum error message.

In a nutshell, I choose Check for Upgrade Pricing, select the Hype3 app manually after it fails to find it automatically and select Continue but the price doesn't change.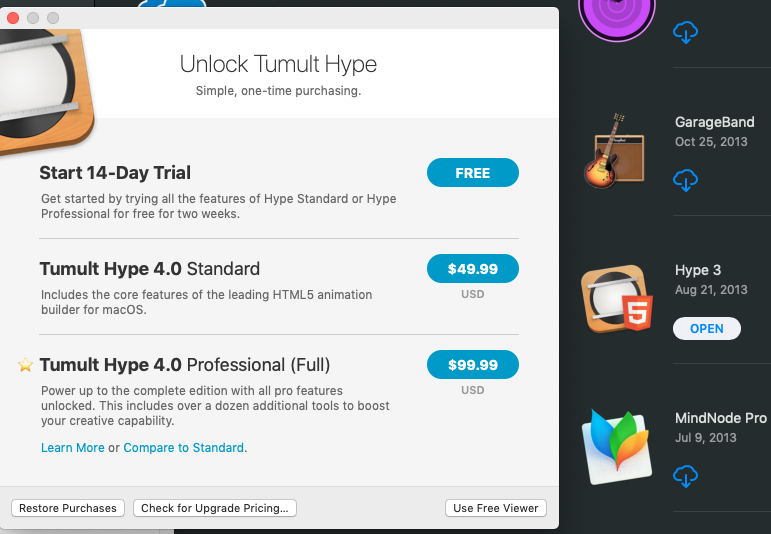 As you can see, I've had Hype 3 (Pro) since Aug 21, 2013.
Just thought you should know… I had no problem upgrading from Standard 3 to Pro 4 with a credit card within the app, but I wasn't able to do so using my PayPal account – The process continuously hung with a screen saying "We're sending you back to FastSpring to complete this purchase."
Regardless, I wasn't involved in the beta at all, so this is my first take: The new app is amazing!