Hi there,
I'm a graphic-designer and new to Hype (great program). So my programming skills are not very advanced, in fact there aren't any at all, sorry, but willing to learn. Now here's my tiny problem:
I created a time bar (actually it's called a timeline but I don't want to confuse everyone) in Hype. It's made for a Samsung tablet for an exhibition.
You can scroll the time bar with your finger or drag it with the mouse. Click on the pictures and you will jump to a new scene to get more information. Here it is: http://prima-propaganda.de/ZeitleisteTest.html
Now: when I jump back from the detail page to the main timeline it starts of course from the beginning. I want to tell the main timeline to jump to the point where I left it for the detail page and continue from there.
I found this in another post and I tried tried it before: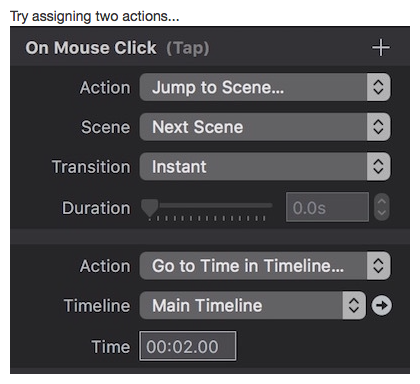 But the time line then can only be scrolled to the right. It ist not possible to scroll left "behind" the 2.00
I will be obliged to hear from you tough programmers.
Rookie greetings.