So, I was looking at my Photics.com traffic report. Apparently, hundreds of people visited my site this month – just to find Turkey / Thanksgiving emoji. That turkey page was more popular than my Hype book page. I wasn't too disappointed about this, as the turkey page had a 96% bounce rate. They'd see the page and then they leave. The Hype book page was more effective. Not everyone buys the book, but a lot of people do. I even saw some great quotes…
The missing book ★★★★★
by Schutz - Jul 15, 2016
Hype focus on HTML5 which impose a huge learning curve. This book ease the process and then rises the magic. I think this is a must have document.
As I'm looking at the stats, I'm kinda bored. Black Friday sales are starting, but I'm not running out to buy a new TV or something like that. Then I was like, "Hey! I can throw a sale of my own."
So, for the rest of today and Black Friday, A Book About Hype is 20% Off*
Yes there is an asterisk.
*You have to order the book through FastSpring (NOT iTunes) and use the coupon code hypefriday to get the $3 discount. It should look something like this…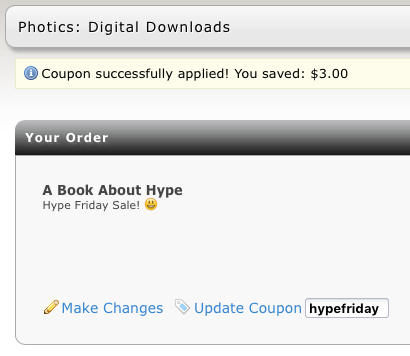 So, if you're interested in A Book About Hype, here's the link…
…and if you're interested in the turkey page, here's the link…