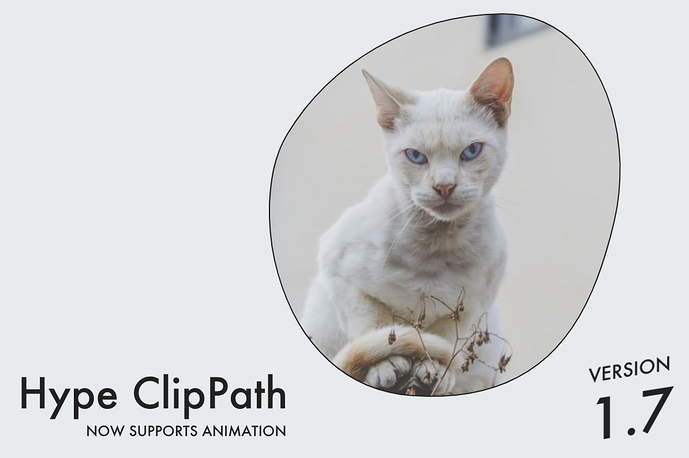 Quick Summary (so far)
This extension aims at offering clipPath support for vector shapes as long as this isn't supported native. It was inspired by this example and now we should be able to do similar things.
Source
HypeClipPath.js
HypeClipPath.min.js
Download Example
HypeClipPath.zip
Demo Example
HypeClipPath.html
Can I use (this):
https://caniuse.com/#feat=css-clip-path
Fallback and API
To support older browsers this extension establishes the following CSS rules if no support is detected:.hideIfClipPathNotSupported and .showIfClipPathNotSupported.
Further more you can use the following call HypeClipPath.supportsClipPath() to see if your browser supports clip path and for example show a different/adjusted scene or run some JavaScript if it doesn't. The function returns a Boolean (true/false).
Versionhistory
0.9 (Beta) Initial release under MIT-license
1.0 First official release, inverted logic and still a function
1.1 With a little refactoring HTML clipping is supported, limitations apply
1.2 Fixed a bug determining if it's a SVG or Group
1.3 Converted to full extension. Added new methods on hypeDocument
1.4 Added live preview in IDE
1.5 Fixed some preview issues (nudging, delay)
1.6 Fixed some preview issues (zoom)
If you want the old version without animation: HypeClipPath16.js (1.6)
1.7 Using Mutation Observer, debouncing and performance update
Beta
If you want to help check the latest beta and give me feedback link the file below:
There is currently no beta, coming up soon 1.8 beta addressing Hype responsiveness
---
Hint: While updating I overwrite the above files. So, that should be yet another reason not to hotlink from my server when you deploy into production. Another thing, if you are by accident loading an old version from cache… just add ?VERSIONNUMBER after the url (cache buster).