Anyone know how to change Hypes Quick Keys? CMD + > or < just throws the Preferences panel.
I wish there is pinch zoom in and out.
CMD + > or <
+1
I agree, It is not practical and slow to use,
CMD + or CMD - would be much better
It's (SHIFT)+(CMD)+< and (SHIFT)+(CMD)+> for zoom controls just (CMD)+< gets the prefs

I agree though maybe a (CMD)- or (CMD)+ would be more suitable
D
A quick way to change your shortcuts or add new shortcuts to the menus in HYPE (or any other app on a mac while we're at it ;))
1.go to System Preferences and click on the keyboard section

2.click on the shortcuts tab and then click on the + at the bottom.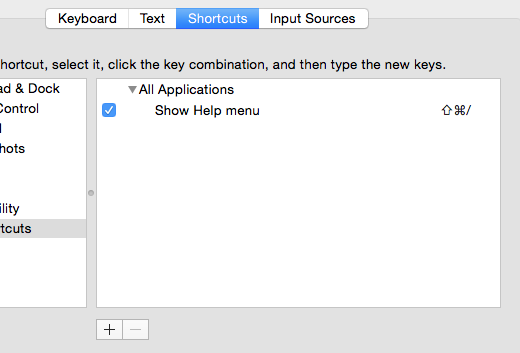 Choose your app (Hype 3 in this case) from the drop down menu
Type in the menu title exactly as it appears in your app (in this case "Zoom In")
And then your new (or replacement) shortcut (here ⌘=)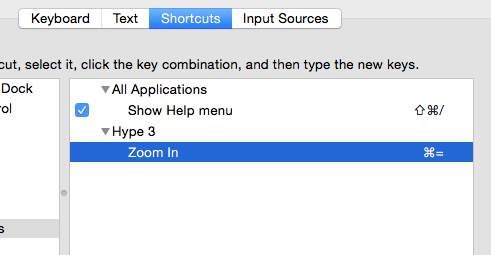 and then go to HYPE and check out the change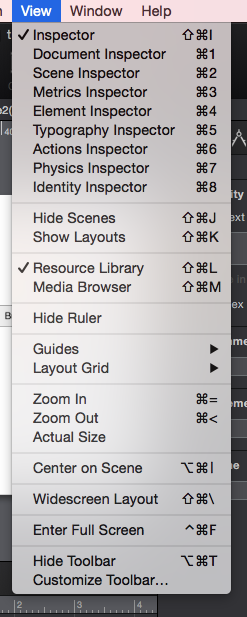 rinse and repeat for the other shortcut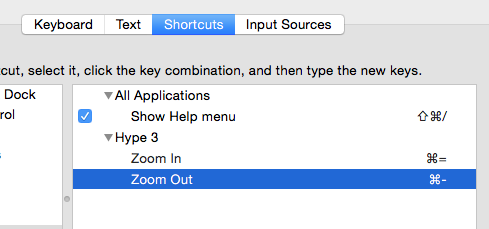 Hope this helps!
D
@DBear
you are Rock!
I didn't knowed this great option, now I'm going to add CMD + / - on the rest of my apps

Hello thx for the tip but can't fine any + bouttons on the Kboard section of SysPref …
the only one i'm interested in changing is

CMD+SHIFT+R
instead of the noisy "i need both hands" to acces CMD+CTRL+K …
how can i do that ?
You need to first go to "App Shortcuts" to see the + button in the Shortcuts area of the Keyboard Pref Pane. Because Set Capo is in a submenu, you need to use a dash and greater-than sign to represent this:
Animation->Capo->Set Capo