Preordered!
Last time I ordered a book about software was ages ago.
Very exited about this one!
I've just preordered, too.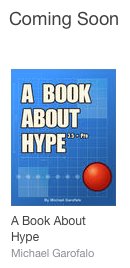 Apparently, iTunes is accepting pre-orders. I tried to prevent that. The idea was to create a launch day surge. Unfortunately, I read the "Foreword" again and there were some issues with it. I cleaned it up and uploaded version 1.1 of the book. Apparently, that turned on pre-orders.
Hopefully that doesn't hurt the book's rankings. I've been doing this for years and I always seem to run into launch day issues with iTunes. It is an exciting time. This might be a non-issue. I think Apple might use the sales for a week to determine what's featured for the following week. I'm not sure though. They seem to like what they like. HA!
But regardless of that minor issue, thanks @gasspence @Olav and @peterdanckwerts for pre-ordering the book.
The plan is to send out a message to each of the 48 people that liked the first thread, and to those that contacted me directly. That's to happen on Friday morning… perhaps as early as 12:00 am Eastern. I'll also be sending out an email list to Photics.com members on Friday too. I think the last one I sent was April 2014, so I do try to keep my mailing list neat.
I noticed that some people from this website tried to register an account for the Photics.com site. It seems that they were unsuccessful. I wrote an article about that…
TL;DR – Anti-spamming methods were too aggressive. I changed the settings and site registration should be easier now.
Received mine this morning! Absolutely great book, reading splendid on my iPad Pro.
So congratulations with this book. A must-have for Hype users as far as I can tell from my initial swiping through the pages and playing with a few of the interactive examples. Very, very happy about this!
Downloaded it about 3 years ago. Looks great
Good morning everyone!
A Book About Hype is now available!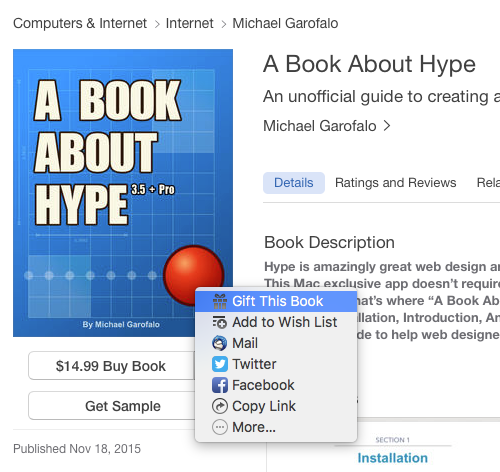 It can also be gifted!

Black Friday is a big shopping day. I'm not exactly sure why it's called Black Friday, but some stories say that it's because it's such a busy day for retail. They have to work extra hard. That's going to be me today. I have lots of messages to send out.
I'm glad to see that the initial feedback is good. If this book does well, lots of people should have a greater understanding of Hype, more people should know about Hype and I'll have a successful book project. It looks like this is off to a great start. It's a great community here, so I'm honored to have created a good book.
---
Also, for Educational or Business entities that use Apple's Volume Purchasing Program, VPP is enabled on "A Book About Hype".
---
I'm not able to send anymore messages through the Tumult Forums right now…

So, it will take a couple of days to get through the liked list at the beginning of this thread.
Just bought the book Michael. The first time I've ever bought a book when the software has yet to be released!
Thank you for writing it.
Be nice if the sample chapter on the App Store was more than one page.
That's disappointing. The sample was automatically generated by iBooks. I thought the app was supposed to grab at least 15 pages from the selected chapter.
I removed the preview. Supposedly, a new one will be auto-generated in 24 hours.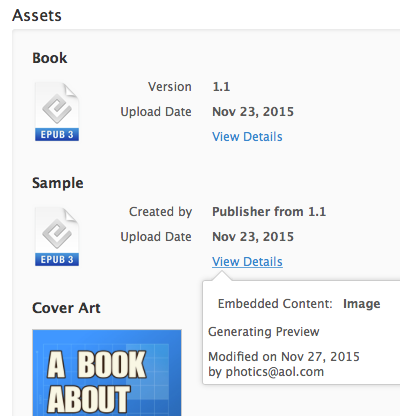 ---
UPDATE 11/29/2015 – I uploaded a new sample today. It seems to have worked.
Yo dude, great job!
Just wanna mention I sent this over to my higher ups at the Toronto Star as an investment for designers here for more advanced use. So hopefully they'll buy a bunch of copies!
yuppie!
Michael Compliments!
I got my copy, now we must share the new bible

The Toronto Star… "Canada's largest daily"… that's cool!

Apple's Volume Purchasing Program works for Business too… https://vpp.itunes.apple.com/
The book is meant to push designers into development, so it could be helpful. I started out as a desktop publisher, so I really wasn't into programming. Even though I had computer courses before, it didn't click. That started to change when I started making games for my website. I think the same could happen at The Toronto Star. Those little interactive boxes on news websites are cool. They really help to tell a story.
Hi michelangelo. The bible is a holy book. I don't want to be compared to that. This book is what it is – a nice way to learn about Hype. Thanks though. I like the enthusiasm.
"A Book About Hype" seems to be off to a good start. Here's how my day started off…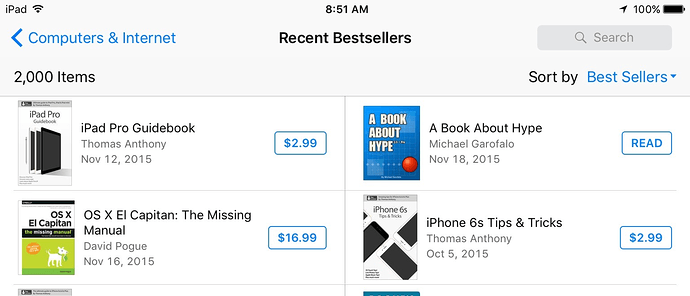 I left my iPad on my nightstand last night. So when I woke up this morning, I decided to check sales. With blurry vision, I was trying to see how the book was doing. I was surprised to see that "A Book About Hype" was in second place on the "Recent Bestsellers" charts.
The book has been jumping around in rank since this morning, but I like where it is. The other books are about core Apple software / hardware – iPad Pro, OS X 10.11, iPhone 6s. This is good step in making Hype a standard app. In the early-to-mid 90's, Macs were associated with desktop publishing. Photoshop, Quark, Illustrator… if you wanted to get work done in this field, you got a Mac.
When working with Hype, I feel like I'm right back in those days. This could be the start of something awesome. It's nice to be a part of it.
I'm almost done sending all of the messages to the people that liked the first post. (There are 8 people left. I can send those messages tomorrow morning.) A lot of them haven't visited the website in a while, so perhaps they'll enjoy the news.
I think what's most exciting is that Hype 3.5 isn't out yet. Once the software is available, a lot of people are going to be flocking to this website. With a lot to learn in the upgrade, they'll be looking for a book about Hype… which is why it's called "A Book About Hype".
A storm is coming… http://www.alexa.com/siteinfo/tumult.com …if this site follows the previous pattern, a wave of traffic is about to hit. Awesome!
I've been reading through all pages of this awesome book and it all makes perfect sense. It's all very clear described and explained with visuals. And the parts about 3.5 make me very exited!
One question. Did you consider to make the examplescenes available for download, or is it something you don't want to share? I'm not sure if I'm able to reconstruct all your examples by following what you write, but probably it's the best way to learn.
Anyways, I'm very happy with the book and recommend it to all!
I'm very doubtful about Alexa's figures. Can it really be that the UK is nowhere in the rankings?
[quote="Olav, post:96, topic:3226, full:true"]
I've been reading through all pages of this awesome book and it all makes perfect sense. It's all very clear described and explained with visuals. And the parts about 3.5 make me very exited![/quote]
I'm glad that you like the book!
Are you having trouble reconstructing a project in particular?
I think it is better to create the templates based on the information in the book. About a decade ago, I was trying to build games with Flash. I was somewhat successful, but I was too reliant on the templates that were included with the book. I wasn't really learning. I was just modifying existing code.
I have been considering this matter. Right now, I'm hesitant to release the templates. There are issues involved. And also, once the templates are out there, they're out there.
Well, I don't consider Alexa to be super accurate. I look at it more for a general idea of what's going on with a website. I've seen how my website compares. One month, my site had over 200,000 visits. It was almost entirely mobile. It was a while ago, but I don't remember Alexa picking up that surge in traffic.
I think it is safe assumption that the Hype website has more traffic when new versions are launched. That's why I'm glad I'm ready with the book. (I even fixed the issue with the sample.) It seems that lots of people are looking to learn about Hype.
Here's an example of timing… https://forums.adobe.com/thread/1971317 …apparently there's some trouble with Adobe Edge Animate. Hype is mentioned a lot in that thread. Hopefully Hype 3.5 launches soon… like really soon. Also based on what's been said in that thread, Adobe might be making some news next month. I'm not sure what that means, but perhaps this space is getting more competitive.
Meanwhile, it's nice to see how the book is doing on iTunes…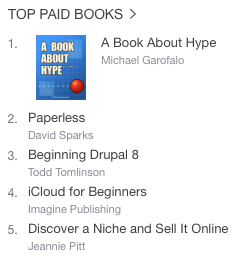 For a little while, the book was the #1 "Internet" book. Apparently, this space is very competitive. The ranking is very fluid. I've seen the book disappear and then come back.
Also, I saw a new review from @gasspence – I'm glad that you like the book too!

@Photics Thanks for the reply and explanation. I agree with you on the templates. It's better to learn from your own struggles than to copy and paste. But dissecting projects can also be helpfull with finding new ways to solve problems. I fully understand you are hesitant to share. With your book and help from the forum it should be possible to get things going!
And on the Adobe Edge side of things, I read Adobe really stopped Edge Animate now and will continue with the new Animate CC wich is a rewrite of Flash. So on that side there is competition coming although I doubt it will be able to be usefull any time soon. Let's wait and see and enjoy Hype 3.5 and more to come!
http://blogs.adobe.com/creativecloud/update-about-edge-tools-and-services/
Hi Photics. The book is only available in the US store. I stay on the Southern tip of Africa. What to do? Is there a way for me to access it, or ask for it from someone so that it is available here?
This is one of the big problems with the iBooks Store. Even if all of the available countries are selected, some countries are just not available. It was a big problem for the Stencyl book. It's less of a problem for the Hype book, but apparently still a problem.
Wow, so that seems to be the big announcement. It doesn't seem to be good news for Adobe Edge Animate fans. It's might be a good idea to rebrand "Flash", but I'm not seeing how that's going to help people that were invested in Edge Animate. I tried the software when it was new. I didn't like it. If I did like it, and invested a lot of time to learn it, I'd likely be really disappointed at this announcement. Is "Animate" going to import "Edge Animate" projects?
It reminded me of this comic strip… http://www.commitstrip.com/en/2015/07/28/betting-on-the-right-horse/
---
Update – I'm going to contact Apple, to let them know about the false iOS warning. This book works on OS X and iOS!

I bought the book and like it, but am wondering if there is any way to get it except that horrible piece of junk known as iTunes. I am using polite words to describe it. Have been with Apple since 1982, unbelievable! They are making Microsoft look good.
I would even pay for it again if there was a better way to download it.
Have it on my desktop Mac, want to get it on my Macbook also , supposedly you can sync through I-tunes (even hate to type the word) but iTunes only shows Audiobooks ( i dont have any) in that horrible minimalist menu in the left upper corner.
Anyone have any ideas, life was so much easier when you could just drag and drop!
No problem, I just repurchased it on my Macbook, a lot easier than trying to make the sync feature work.
It's worth it to have the book on both machines.
But it illustrates why I use almost no Apple software, ALL my important apps are 3rd party.
Apple just isn't the company they were 20 years ago in terms of user friendliness.
It does show how good the 3rd party developers like the great people at Tumult are!